The (Barry Bostwick) Rocky Horror Convention Page
I've been going to Rocky Horror Conventions since the 15th Anniversary in 1990 ... which is where I met Barry for the first time. He didn't make it to Midnight Insanity's 18th Convention in 1993, but we *did* get a few questions answered. I didn't get to see Barry again until going to the 20th Anniversary in 1995, where I got to lavish some more praise on him, after seeing the footage of his performance in "Once in a While".

Although I did not attend the 10th Anniversary, I have included what footage there is of Barry at the 10th, for completeness.

Click on the badge/ticket below for each individual convention page. Thus far, I only have data on Barry from the 10th, 15th, 18th and 20th. If you have more data, please forward it to me. Thanks!
---
Conventions: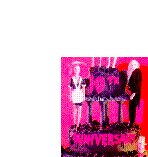 10th Anniversary -- New York, NY
(October 31, 1985)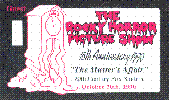 15th Anniversary, "The Master's Affair" -- Los Angeles, CA
(October 20, 1990)

18th Anniversary, "Age of Consent" -- Long Beach, CA
(August 21-22, 1993)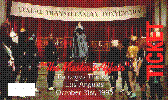 20th Anniversary, "The Master's Affair" (Deja Vu!) -- Los Angeles, CA
(October 20-21, 1995)

22nd Anniversary, "The Light in the Darkness" -- Anaheim, CA
(June 20-21, 1997)

23rd Anniversary (RockyCon '98) -- Las Vegas, NV
(October 9-10, 1998)

25th Anniversary (Fox Convention) -- Las Vegas, NV
(October 13-14, 2000)

"Frankie Goes to Hollywood!!" -- Hollywood, CA
(June 21-24, 2001)

"Rocky Horror Vacations" -- Orlando, FL
(October 11-14, 2001)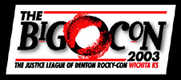 "The Big 'O' Con" -- Wichita, KS
(June 20-22, 2003)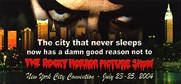 The New York City Rocky Horror Convention
(July 23-25, 2004)

The Un-Toucha-Touchables -- Chicago, IL
(July 27-30, 2006)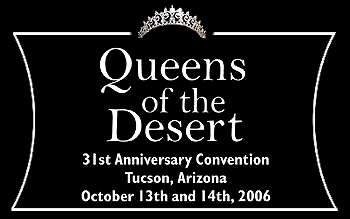 The Queens of the Desert -- Tucson, AZ
(October 13-14, 2006)
Future Conventions:
Please also visit the Convention Planner page, over at Crazed Imaginations (Fanzine).
---